"Two experiments are reported in which subjects viewed films of automobile..."
– The Scientific Equivalent of "When did you stop beating your wife?" The quote is from the original study and not the post linked but you know I would never link you to a long-ass study—much less a PDF of a long-ass study.
Demonstrably: don't be scared.
Thought for the day: demonstrably is a very angry sounding word. But do not be afraid, it won't hurt you. It just means "in an obvious and provable manner." But I guess that would scare a lot of people actually because so many people are full of shit.
10 Word Mix-Ups To Avoid, Presented By Bunnies →
I think this post just rendered my whole blog useless. 
"New word usage alert! Slash old people are late to the party again!"
– 'A Rare Bird Sighting': 'Slash' As A New Conjunction : The Two-Way : NPR
Email signoffs: End them forever. Best, Yours,... →
This guy is mad! I agree though. Email isn't a formal medium and signoffs are so formal. I like when my dad says "best" though but old people are always funny on the internet because they don't know the norms. I like xoxo because it's silly and everyone knows I don't like hugging. I also like "sincerely" because I'm basically never being...
Cursive Is Dead and There Is Nothing You Can Do to... →
Aw, poor cursive. I've been saying for years what a waste it was to learn cursive—imagine what I could have learned instead! Like social skills or something. For some weird reason, I still use cursive for checks. I've been trying to transition to print but it's hard. For some reason I thought you had to write checks in cursive. No idea. One question: how will kids nail...
It's tough to be a European-American
I was recently reminded that this blog exists. In separate news, I came across this article in Philly Mag: Being White in Philly. OMG it's the worst! But linguistically, it irks me too. Who even says "whites" and "blacks" anymore? I say "white people" and "black people." I don't even say "jews." I feel like...
My new favorite site
Better than English: A site devoted to those words you just can't translate. I haven't looked through the whole site yet but I hope ennui is included. That's my jam.
R Grammar Gaffes Ruining The Language? Maybe Not →
I think I'm on both sides. If your site has grammatical errors, I totes won't believe anything you say on there.
"There is a distinction between having the legal right to say something and..."
– China Miéville (via kdeln) #word
Art and Architecture Puns →
Haaa, architecture puns. Ridic.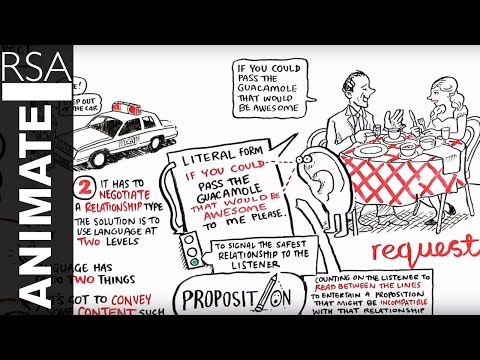 The Most Comma Mistakes →
Grammatically, there are various ways of describing what's going on. One helpful set of terms is essential vs. nonessential. When the identifier makes sense in the sentence by itself, then the name is nonessential and you use a comma before it. Otherwise, no comma. That explains an exception to the only-thing-in-the-world rule: when the words "a," "an" or "some," or a number, come before the...
Regional English, Tweet by Tweet - NYTimes.com →
timefornaps: According to a paper delivered at the annual meeting of the American Dialect Society in January by Brice Russ, a graduate student at Ohio State University, the 200 million or so messages posted each day in the supposedly placeless world of Twitter may end up being a rich source of information about regional difference. To demonstrate the validity of Twitter-based research, Mr....
"The idea that young women serve as incubators of vocal trends for the culture at..."
– They're, Like, Way Ahead of the Linguistic Currrrve
Our Lin-sane attraction to terrible puns,... →
Um…I can't think of one.
Negative affect, you say? →
julianneeee: vegansaurus: "Many people like eating meat, but most are reluctant to harm things that have minds. The current three studies show that this dissonance motivates people to deny minds to animals. Study 1 demonstrates that animals considered appropriate for human consumption are ascribed diminished mental capacities. Study 2 shows that meat eaters are motivated to deny minds to food...
1 tag
I've been watching too much Bravo
Chimps May Have the Ability to Understand Language... →
I read about this sine-wave form speech with dolphins too, pretty cool. Thwarts the naysayers! 
The Lexicon of Sustainability | Grist →
Exclamation Points and E-Mails - Cultural Studies... →
Pish, whatevs. Use 'em if you got 'em!
Snarky
I'm getting so tired of this word. Here's the definition from Free Dictionary: snark·y adj. snark·i·er, snark·i·est Slang 1. Rudely sarcastic or disrespectful; snide. 2. Irritable or short-tempered; irascible. People keep calling vegansaurus snarky and imply that's something they like but it seems like a bad word. I'm kind of like, only snarky people use the word...
Fun with Gender and Toy Ads! →
1 tag
"locapour n. A person who drinks only locally produced wine or beer. [Blend of..."
– Word Spy - locapour Haaaaaa
"Velcro dog n. A dog that always sticks close to its owner, especially by..."
– Word Spy - Velcro dog
Word Spy →
Kevin Reilly showed me this site. It's "The Word Lover's Guide to New Words." I'm into it.
Semantic satiation →
readmorewikipedia: Semantic satiation is a cognitive neuroscience phenomenon in which repetition causes a word or phrase to temporarily lose meaning for the listener, who can only process the speech as repeated meaningless sounds. For example, say: "smile smile smile smile smile smile smile smile smile smile smile smile smile smile….".
stfumansplaining →
My favorite buzzword of 2010 has it's own tumblr blog now: STFU Mansplaining. The blogger is a man so…yeah.
Words coined in the 1990s →
3 tags
"I read Jay Rayner's attempt at a week of veganism, where he suggests that..."
– You know I love when my linguistic interests and my vegan interests converge. Also, "ethnic" is my favorite adjective. talking about things to eat (or: how the words people use to describe food make me feel like a freak) by VEGAN ABOUT TOWN (via supersoygrrrl)
Philly Tawk →
Blogspot site for "a discussion awn Mid-Atlantic English"
3 tags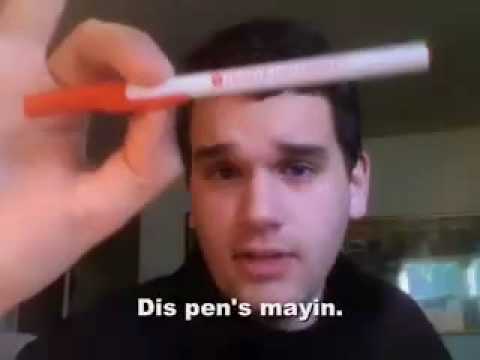 The Dictionary Of Received Ideas →
tristn: tomewing: One of my favourite books. If I were ever forced away from the internet I would certainly pack the Dictionary to remind me of it. Flaubert wrote a dictionary of cliches? I love it, especially the "always" rules: ACHILLES Add 'fleet-footed': people will think you've read Homer. BATTLE Always 'bloody'. There are always two sets of victors: those who won and those who lost. ...
2 tags
Words of the year from NYT
It's that time of year again! Time for the words of the year. They aren't that exciting this year. My favorite is maybe mansplainer: mansplainer: A man compelled to explain or give an opinion about everything — especially to a woman. He speaks, often condescendingly, even if he doesn't know what he's talking about or even if it's none of his business. Old term: a boor.
1 tag
2 tags
Another word-of-the-day downer from the free...
Damn. That "Usage" is crushing.
1 tag
1 tag